Tim, Clint, Kim and James all claim what they experienced at High Rock was spiritual abuse. Communicating with former members through Reddit or reading testimonies from members of other churches on the website became a part of the healing process as they learned they were far from alone.
As of April 2023, 20 months after the website went live, 27 stories have been posted to the website. The Reddit thread currently has 813 members.
As both sites gained popularity, a consensus grew: the emotional harm former members allege appeared to be rampant throughout the network of churches, a system created and maintained by religious leader Steve Morgan.
•••
Steve Morgan's network of churches began in 2006, when Morgan, writing that he was inspired by a message from the Holy Spirit, left the Association of Vineyard Churches to start his own church network. He renamed his Illinois church Vine Church, and off the vine went, sprouting saplings across the country, and eventually, the world. Today, there are 26 churches across three countries in Morgan's church network.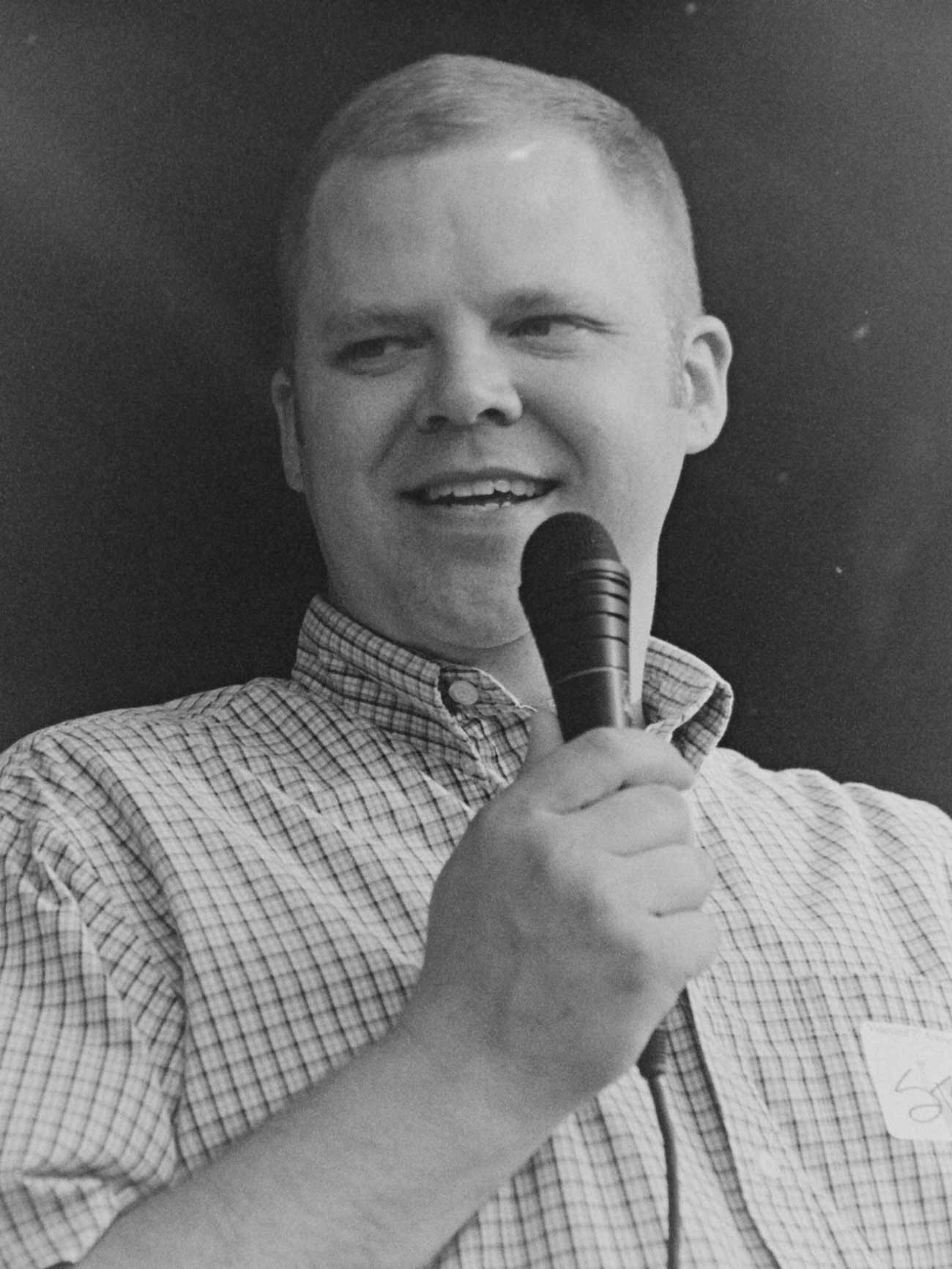 Each new church was formed under Morgan's unnamed, nondenominational network, tethered by a tried-and-true strategy of growth. Churches focused on a small group structure intended to extend reach while maintaining close ties, particularly for university students, and 5% of monthly tithes flowed to the general fund of the network, according to the network bylaws. That same document states that local church bylaws can be edited by network leadership at any time, giving Morgan the ability to directly affect individual churches.
In 2008, Morgan sent out his sixth church plant to Bloomington, Indiana. Among the church plant team was Scott Joseph, the current lead pastor, and Tim Reeves, a pastor who left the church in 2021.
The church would be called High Rock, fueled by Indiana University students as they sought a place of refuge for their faith. But the image High Rock projects was fractured in the summer of 2022, when the decades old crime of the network's founder and leader was shared with the world.
•••
In 1987, Steve Morgan was arrested for aggravated criminal sodomy of a minor in Johnson County, Kansas.
Despite the severity of his crime — abusing his power as a youth pastor and raping a 15-year-old boy — and the fact records state the Johnson County District Attorney's office believed he was guilty, the court decided on a diversion agreement. This agreement did not require jail time, but it mandated he pay for the therapy of his victim and receive counseling for his crime.
At the time, sex offender lists did not exist in Kansas and much of the U.S., so Morgan was free to move across the country and bury his past, going on to become a revered leader with a tremendous amount of power.
Disclosing his crime to only a few leaders he trusted in the church, Morgan maintained his position under the pretext of repentance. But Morgan was not fully transparent: Andrew Lumpe, former board member of a church in Seattle, recalls Morgan saying the victim was older than he actually was when Lumpe was first told in 2007.
After attempting to remove Morgan quietly, Lumpe decided to send a letter to all church leaders detailing the crime in 2019.
He received no response.
In 2020, almost four decades after the incident, Morgan finally confessed his crime to all of the lead pastors. In the summer of 2022, a former member of the church found and published Morgan's arrest records, exposing details of Morgan's crime he had tried to hide.
At no point was Morgan held accountable and removed from his position. To this day, Morgan is still president of the network and the lead pastor of Joshua Church in Texas.
•••
At 38, former pastor Tim Reeves navigates the classroom with the ease of someone born to deal with middle school kids. He is lighthearted yet focused, determined to make a lasting and positive impact. When he is teaching, it is difficult to imagine him as the solemn and serious Pastor Reeves that former members describe.
School was over, with chairs stacked on desks and hallways quiet. Children occasionally pop their heads in the doorway to say goodbye, and Tim pauses to wave back at them.
Teaching is the natural next step for Tim; it is the thing he liked best about being a pastor. Here in the breezy world of middle school, he feels free. He can encourage students to be at their best without carrying the burden of making spiritual decisions for them.
"For a lot of these kids, it's just great to have someone who cares," he said.
As a pastor, Tim saw the inner workings of Morgan's church network. He alleges church leaders manipulated their subordinates, asking young men to give up everything to become pastors or expecting total devotion from congregation members, such as asking people to stay at the church instead of pursuing career opportunities.
"It's hard for me to feel trusting of leaders in churches because I feel like once you've seen the sausage and how it's made, it's hard to go back," he said.
When Tim first met Morgan in 2005, he said it felt good to be wanted. But after leading a church plant of his own, he felt like a failure whenever he could not meet High Rock's goals for growth.
"You just push and push and push, even if you're unhappy, even if your thing's not working, because there's just this sense that you can't go against God's calling," Tim said.
In the pursuit of growth, Tim said pastors were encouraged to act intentionally, with every interaction building the strength and numbers of the church. Looking back, Tim thinks he played a part in hurting people.
Although Tim regrets some of his actions while a pastor at High Rock, his departure from the church was not his own doing.
In his final months as a pastor, Tim was having an affair with another member of the church. When other church leadership found out, they swiftly fired him. Tim and his now-girlfriend, Tabby Whitcomb, both feel they never got an opportunity to repent.
Facing the immediate loss of his job and support system, Tim suffered extreme anxiety and lost 30 pounds. He scrambled to find a job, eventually earning his teaching license and finding a job in Brown County.
Tim acknowledges that what he did was wrong, but he still felt betrayed when he found out about Morgan months later, whose sin was criminal and not consensual.
"I think that the number one reason it's different is because I'm not Steve Morgan," Tim said.
Without Morgan, he said, the network would not survive.
•••
With close-cropped hair and an inky vine of tattoos on her arms, Kim, 34, admits she did not fit High Rock's mold. Between alleged disagreements over how issues of mental illness were handled and conflicts over Kim's personal choices, she began to feel unfairly targeted by Scott Joseph, the lead pastor at the church. 
In one instance, Joseph chastised some members of the church during, a sermon who were asking for donations to fund adoptions. At the time, Kim and James were attempting to fundraise to adopt a child from another country and did not know anyone else at the church doing that at the moment. However, Joseph denied that the sermon was about them when Kim asked.
But the turning point for Kim was far quieter.
Wandering amongst the shelves at Once Upon a Child to pick up some toys for a client, Kim checked her phone to see a text from a volunteer for High Rock's children's program.
Kim said the volunteer wanted her to be a one-on-one aid for a 3-year-old child diagnosed with autism who was deemed a distraction for the other kids.
The distraction, according to Kim, was that he couldn't sit still on a square.
Thoughts flashed through her mind. She remembered the embarrassment of going through school with a personal nurse to administer medicine for her diabetes. She imagined the isolation and stigma the three-year-old would face if he was taken away from the group and treated as different.
Finally, she thought of her own child's future. Kim and James had spent over a year trying to adopt a child with down syndrome. Now they were close to success- if the final paperwork worked out, they would soon be the proud parents of a child from a foreign country.
But while the 3-year-old at High Rock had only some additional needs, Kim's child would have profoundly more, arriving to the states with no English language proficiency and attachment issues. The request was only a small example of how she felt the church viewed the vulnerable, whether they had a disability, had mental health issues or were unhoused.
"We don't want them to grow up in a culture that puts them off to the side for the comfort of everyone else," she said.
•••
On July 10, shortly after Steve Morgan's arrest records were published, the vice president of the network, Sándor Paull, released a letter to churches within the network.
In it, Paull denied allegations of spiritual abuse and called the characterization of Morgan's crime "distorted." He said the board believes Morgan's sin has been forgiven by God, detailing Morgan's conversion to Christianity, confession to overseers and subsequent walking in "character, purity and ingenuity" as proof of his repentance. Paull closed the subject with a condemnation.