Editor's Note: This story includes mention of sexual assault.
The freshmen women on floor seven of Harper Hall in Foster Quad learned a lot before they sat through their first college lecture.
They learned that a knot forms in their stomach after move-in day. When their parents finish hauling everything into their dorm room and then say goodbye and shut the door, they will probably cry. They learned what it was like to have a panic attack on the first night. They learned ways to fight the loneliness — to keep their door open, to be friendly and to search Snapchat to find other freshmen to hang out with.
During the blur of Welcome Week, the women of floor seven spoke in the lounge past midnight and found out which of them smoked weed, who drank, what their summer flings had been like and who their favorite Kardashian was. They went to their first house parties and learned the power of the right song, at the right moment, with the right group of new friends. When Baby Keem and Kendrick Lamar's "Family Ties" played, they discovered they could actually feel at home at IU, even if it was only for four minutes and 12 seconds.
Ilana Felix was sitting in her room when she heard two of her floor mates stumbling down the hallway. The sound of their shoes dragging across the floor as they hobbled door to door looking for help. When they came to Ilana's open door and saw her sitting on the bed, they beelined toward her with tear-streaked faces.
"Ilana!" she recalls they said, collapsing into her lap. "You won't believe what happened."
The two of them had returned from a party at Briscoe Quad. Between dry heaves and sobs, one of the women explained to Ilana how she got drunk. When one of the friends stepped away to find her Crimson Card, another freshman tried to make a move on her.
"Come back with me," she recalled him saying. "Let's go to my room."
She didn't want to go, but he wouldn't listen. He tried to feel her up. She said she was assaulted.
Ilana listened to her floormate speak and the room went still. The sexual assault had already happened. She couldn't change that. She rubbed their backs and tried to think of something to say.
"You're safe now," Ilana recalls telling them, hoping they believed her. "You can take a shower if you want. It's over."
But it wasn't over. It was only August.
In those very first days, before classes started, Ilana had to learn how to comfort a person going through a life-altering trauma — a lesson freshmen women were already learning.
•••
The first few months of freshman year are notoriously challenging. A cloud of expectations hang overhead: It's the best four years, former graduates say, and it has to be so fun, so exciting, so perfect. But it's messy, confusing and overwhelming. It feels like a beginning and an ending simultaneously. It feels like getting lost and being found, over and over again.
But amid self-discovery, freshmen students also discover the risk of sexual violence on campus. According to the Rape, Abuse, & Incest National Network, over 50% of sexual assaults taking place on college campuses occur from a period stretching from August to Thanksgiving Break — a period known as the "Red Zone."
The Indiana Daily Student followed four freshman women on floor seven of Foster Harper for three months as they navigated college, partying and the Red Zone for the first time. That floor cushioned their fall into the Red Zone with strength in numbers.
"We came into this going, if one of us is going out, then we both should be going out," freshman Aislinn Ahearn said about her and her roommate Gaby Kovac.
Freshmen, particularly women, quickly learn a reality far more harrowing than IU's low sexual assault statistics suggest. Many sexual assaults go unreported, as the Brennan Center for Justice estimated 80% of women who are assaulted don't inform police. Many young women don't inform police due to wanting to avoid reliving trauma and out of fear of not being listened to.
Ilana knows a different story than the reported numbers tell. Women in sororities know this different story. Many women on and off campus do.
Last year, the number of sexual assault cases during the fall semester caused the IU Panhellenic Association to institute a suspension on all fraternity parties and paired events until the spring. Greek life started this year with new guidelines for increased safety at parties as a result.
This all looms overhead while freshmen learn how to live on their own, make major decisions and figure out what they want to do with the of their rest of their lives.
•••
On the cinder block wall of Kylie Furlong's room, there's a print of a fox and a cat having a conversation. The fox tells the cat: "I want my life to be full of Great Moments." The cat responds: "Great moments exist inside of ordinary moments. Try having a cup of tea!"
The poster is Kylie's manifesto. To her, college is about chasing great moments.
The gift of independence, specific to the freshman year of college, is a coveted experience. It's written in book after book, and in countless films and television shows. Kylie eagerly unwrapped her newfound autonomy, but quickly learned it was far more nuanced than she imagined.
During Welcome Week, Kylie sauntered through the hallways, lending awkward greetings to her future floor mates. Though it was awkward, these people were going to be part of the great moments — she could already feel it. There was space to be filled even after the walls were decorated and the furniture was placed in her room, C726. What Kylie wanted, what she needed, was people.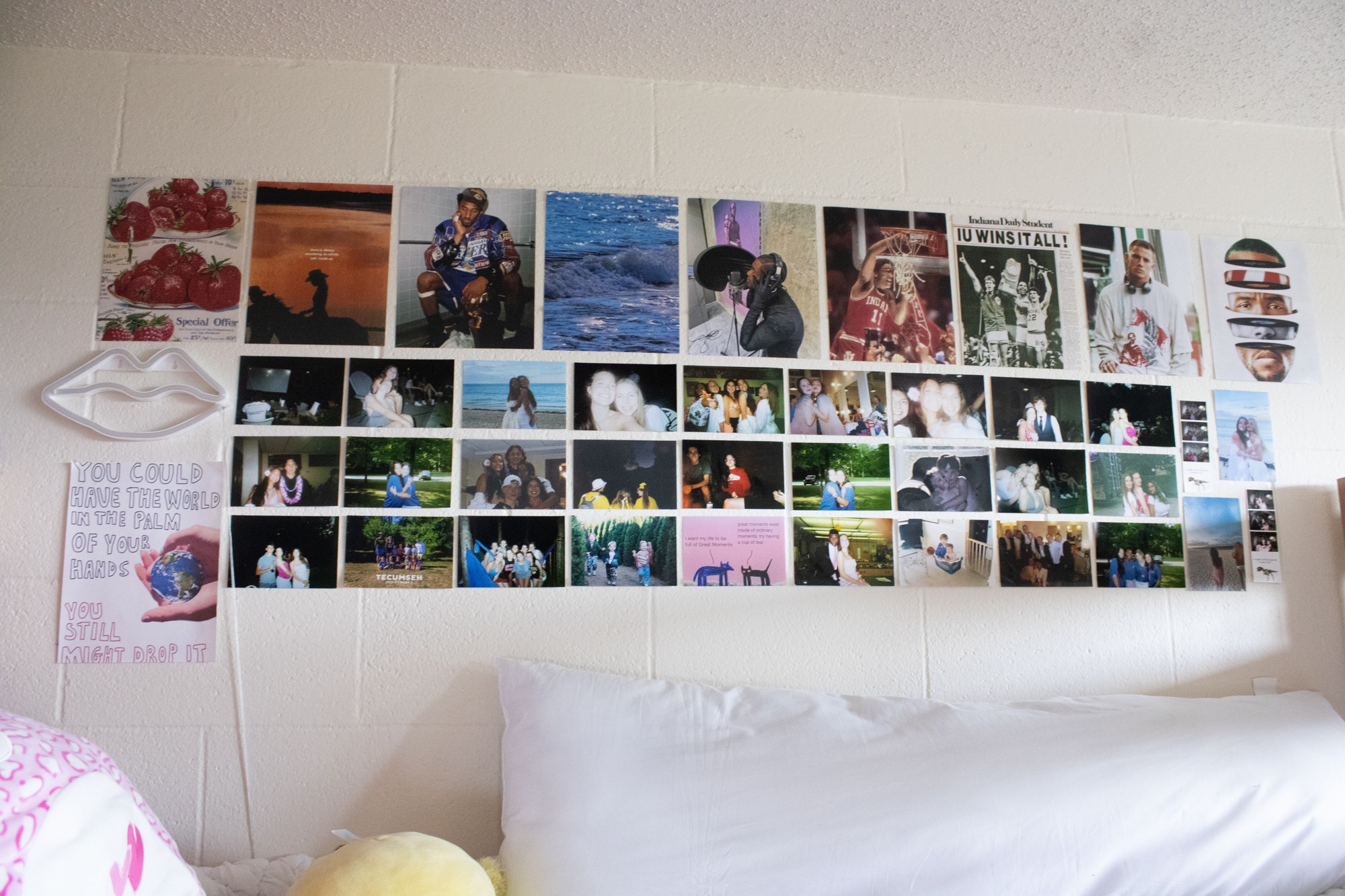 The gradual communication in the early days of Welcome Week quickly transpired to friendship, even embarking on missions together.
She laughs as she remembers the events of the first week, scrolling through her vault of memories documented on Snapchat. Kylie pauses with a smile and a laugh; she found a good one. One night, her floor walked together to McGee Hall, another area of Foster. A girl had stolen their friend's blanket, and they went together to confront her.
Now, a member of the floor seven family, Kylie sits in her dorm in mid-September with freshly cut bangs.
"My friends helped me, we had our own salon, but I really like it," she jokes, rolling her eyes and pointing to her hair. "It's so college of me."
For many freshman, experiencing college isn't enough. They need to be consumed by the experience, infusing themselves into the school spirit and the memories that come with it.
The Great Moments stockpiled as the floor grew closer. One weekend, Kylie brought a pink polka dot umbrella to a party since there was a chance of rain on the day's forecast. When it down poured, everyone swarmed her at the party. Eventually, the DJ took her umbrella, telling her "we need this."
But, Kylie can't always make every "umbrella dance circle," especially when she has early morning dance rehearsal at 9 a.m.
Kylie is a dance major. It's her passion, lifeblood, and she spends most of her day in the studio. But, dance heightens her FOMO, or fear of missing out. She doesn't want to sacrifice one great moment for another.
"I thought I solved my FOMO the minute I left high school," she said. "It's hard to learn that everyone gets it and that I'm not the only one."
That's the thing about college; it's hard to realize these experiences are universal. When a freshman's world is their floor – a community only a few feet in front of their front door – it's hard to imagine the greater community at large.
Kylie struggles with pouring herself into every new friendship – desiring that every new friendship is just as important as the last. But, this isn't realistic.
"I have a hard time with like, bonds fading," Kylie admits. "I wish I could be friends with everybody at the same time…so sometimes I think about that, and it's overwhelming."
Although Kylie finds no issue with meeting new friends, as a self-proclaimed hopeless romantic, finding a meaningful romantic relationship in college has been Kylie's biggest struggle.
In the corner of her room is an arranged list of blue and pink Post-It Notes. At first glance, the barely legible pencil marks seem unimportant, but it's a culmination of Kylie's romantic life. Nice guys go on the pink Post-It Notes. Bad guys go on the blue Post-It Notes. Several ambiguous nicknames populate each of the squares, symbolic of a quintessential element of hook-up culture: anonymity. All is kept in order with the oddly reverent cement-wall shrine of a pack of $1.89 Post-It Notes.
Navigating hook-up culture means braving failed "talking" stages, "situationships" and one-night stands. This shift in thought signals a major change Kylie has experienced over her first semester of college. As Post-It's rearrange, so do Kylie's relationships – fizzling and faltering.
"I've never had a boyfriend before," Kylie said. "They are either my friends or want nothing but to hook up, or they just don't like me."
Kylie now asks herself are these "prospects" kind? Are they good communicators? But when she settles for less, tempted by loneliness, she's left defeated — knowing she deserves more. With new beginnings in unknown places, a question hangs in the air: "Will I meet the one?" But in a sea of excitement of new relationships, eager connections can easily lead to unwanted advances.
•••
Elizabeth Armstrong, a former Media School faculty member, and Laura T. Hamilton, a former IU Ph.D. student, conducted a five-year interview study chronicling the lives of young women at an unnamed university, which the authors and the Indiana Daily Student will call Midwest University. Their research formed into a book, "Paying for the Party: How College Maintains Inequality." The authors studied how young women navigated the freshman experience with an emphasis on class disparities.
Although the study mainly focuses on the different pathways college freshman take based on their socioeconomic status and how this impacts their life after graduating, there are important excerpts and analyses on party and hookup culture relevant to the issues on IU's campus.
MU represents a flagship Midwestern public university in their book and bears a striking resemblance to IU. Partying, exploring sexuality, rushing Greek life, studying and other experiences pertaining to freshmen women's experience on college campuses were analyzed.
The issue of sexual assault on college campuses has become increasingly prevalent each year, especially at IU. Armstrong had just come from a workshop the morning the IDS spoke to her. The training focused on sexual assault and the prevalence of victimization based on a sample of two million students nationwide. Despite her experience with the women of MU, she said the reality still floored her.
"If one's college experience starts with a trauma in that first semester, that means that the rest of college is going to be informed by healing and trying to get resources to recover," she said.
The book's stories also reflect IU's stories. A similar collection of unwanted advances heard now at IU are seen in its pages. Below is an anecdote by one of the freshmen Hamilton and Armstrong shadowed during the study, one of the many girls they followed to research what different freshman experience based on their respective experiences.
"This guy that I was talking to for like 10/15 minutes says, 'Could you, um, come to the bathroom with me and jerk me off?' I'm like...I've known you for like, 15 minutes, no."
— Hannah, Freshman | "Paying for the Party"
Armstrong believes the goal of sociology is to provide people a window about what people think are "individual experiences" but are often not. Sexual assault and unwanted advances lie on the other side of that window, displaying the unreported reality that many women face on not just IU's campus but nationwide.
•••
Fall break loomed in the distance. The women of floor seven's parents were texting them eagerly, making plans to pick them up and bring them back to their hometowns. They were about to revisit a version of themselves that no longer fit.
They learned through experience — but not all experiences are for the better.
By mid-September, six sexual assaults had been reported to the IU Police Department. As of late October, the number had climbed to 14.
Gaby and Aislinn were dancing in a dimly lit basement at a pledge class party . The song "Come Get Her" by Rae Sremmurd blared over the speakers. Gaby was dancing alone when a guy's hand found his way to her waist.
"He's not touching me," she remembers thinking. "It's okay."
Soon after, both of his hands grabbed her waist and he pressed himself against her. Panic shot through her body.
"Get off me bro," Gaby yelled, shoving him back with her elbows. He grabbed her again, ignoring her clear lack of consent.
"What the fuck," Gaby thought.
Her hands became clammy, and her eyes desperately searched the hazy room. She locked eyes with Aislinn — her rescuer. They stood across the room from each other, holding a look. Aislinn ran to Gaby and grabbed her arm to yank her away from his clutch. The guy eventually was kicked out.
These advances are experiences that many girls on floor seven have experienced, Kylie being another.
Another night, Kylie's roommate was confronted by another freshman boy who was in ROTC.
"In the army training, they told us how to be respectful towards women," he said as he placed his hand on her back. "So do you want to come back to mine?"
Kylie scrunches her face when she hears the story.
"No one has violated me, but guys are weirdly touchy sometimes," she said. "I don't know why that's the norm."
Accepting this uncomfortable reality means women need to establish ground rules to ensure safety.
"We're never by ourselves," Gaby said. "We're out with at least four people, minimum. We only drink our stuff. We don't drink anyone else's."
Ilana shared similar ways she protects herself. She admits, after her experience during Welcome Week, she has become more aware on how to be safe at parties.
"Pants. Jeans are not very easy to get off," she said.
Ilana believes the "Red Zone" is a constant.
"There's not really a season for it," Ilana said. "But from what I know about this school, the stories I've heard and peoples experiences, I think it's just an underlying thing at IU."
Informational flyers about sexual assault are plastered on almost every bulletin board in freshmen dorms, but Ilana wants awareness about the Red Zone to be something that sticks longer in people's minds than a glance at a pamphlet.
"It can happen to anyone," she said. "It doesn't matter due to your social status. It doesn't matter how pretty you are. It doesn't matter what you're wearing. It can happen to anybody."
•••
When sophomore Carolyn Saban thinks of her freshman year, she is reminded of watching Gilmore Girls for the first time with her roommate, who was on her eighth watch through and listening to Olivia O'Brien religiously.
Carolyn has known Kylie since they were kids and they have a similar sense of style and music taste. 
Carolyn gave Kylie an early introduction to Bloomington life – offering advice like the pad thai at Siam House is amazing, Soma has the best lattes and although it's tempting to sleep in, don't sleep your whole day away.
Even with the best guidance, it's impossible to prepare a freshman for everything. Carolyn and Kylie sit on opposite ends of the "Red Zone." Although Carolyn is on the other side of the Red Zone, it still affects everyone. Carolyn said there is an unsaid code amongst women, especially in situations where there is higher risk for assault.
"With my friends last year, we didn't really sit down and have a conversation about it. But it was known between us," she said. "If you're at a party, no one is left alone. If someone has to go to the bathroom, you go with them. I don't care how much you love the song, there will be other great songs."
During a party early in her freshman year in the middle of the dance floor, a girl who was alone with a guy kept staring at Carolyn. She remembers how uncomfortable the girl looked, so she went over and loudly exclaimed, "Hey! How have you been?" She had never met the girl in her life.
"When you're in the setting of boys and girls, and everything in between," Kylie said. "There are no parents, and you're an adult, but still a kid…it makes it important to remember your value, and don't dumb it down for anybody.'"
•••
During freshman year of college, it's possible to become someone's best friend just as fast as their enemy. It's fluid, confusing, fun, emotional, and one of the worst and best times. There is immense emotional and physical change, adapting to the bad and great moments alike.
Kylie's great moments are cutting her bangs in the bathroom sink, playing "Family Ties" and pink polka dot umbrellas.
For Ilana, it's the late-night talks with her floor mates in the lounge. It's Camp Kelley and her a capella group. But it's also the shock she felt as two women confided in her about a sexual assault.
Aislinn's physical change allowed her great moments to flourish in college: a plastic black bowl and brush on her desk for hair dye. A new era ushered in for her against her mother's advice — the type of independence that college promises. It was also having to rescue Gaby from being groped on the dance floor that night.
Gaby learned about seeking great moments in life's final moments in her favorite class SPHH-220: Death and Dying. It's the death and rebirth that Gaby has experienced within herself since August. Cast aside is the crying girl in her dorm room that first night. Reborn is the girl who films her friends every night out, making sure to capture memories. It's also that night at the party when Aislinn's rescue mission saved her from something potentially dangerous.
"People can feel really isolated," Armstrong said. "But are having experiences that are hard for other people for the same reasons."
The women on floor seven felt isolated. They felt lost. They felt alone. However, they were experiencing it all together — just feet apart from each other.
Without uttering a word, Aislinn saved Gaby at that party months ago. Without knowing it, the lounge talks gave Kylie the energy she needed. Without Ilana, the two women from Welcome Week wouldn't have had a shoulder to cry on.
This fall, 15,922 students started their freshman year at IU. Somehow in this number, the girls of floor seven won the lottery.
"It's helpful to have a support system," Kylie says. "I know other people are struggling way more in this big change. I've trained my mind set to find good in the changes."
It's also important to be the good.
Kylie recalls an experience, when she and her friends found a drunk girl walking alone back to Foster. The girl was visiting a friend, and she didn't go to IU.
"I didn't even know this girl," Kylie said. "But we had something in common, and I talked to her the whole walk back."
Though the "Red Zone" technically has an end date, it isn't that simple.
"It's always there," Kylie said. "If anything, you are still in those environments that have that risk. You just have more awareness. It's important to be aware."
It's not about living in fear, Kylie said, but being aware of the risk. That's the hardest part to accept. That it is simply a part of the college experience, and you must be prepared.
On Kylie's wall, she has a sticker with "It's on us to believe survivors" from IU's "It's On Us" campaign. Opposite to it, a black and white photograph of someone holding a "My Body, My Choice" poster hangs on the wall.
"It's one of my values," she said. "I don't think anyone should have control over anyone else's body. It's something I try to keep in mind in environments where the boys disregard that."
Like what you're reading?
Support independent, award-winning student journalism. Donate.